The question many in the industry have is how it got to this point in the first place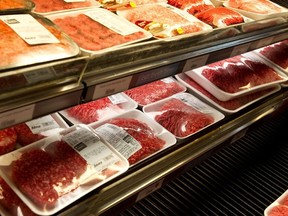 Article content
The government won't be warning you that your burgers are unhealthy after all.
Article content
Health Canada will be exempting ground meat and poultry from its long-awaited stricter nutrition labelling regulations set to be in place by 2026, after previous consideration in the regulatory framework prompted fierce criticism from meat producers and stakeholders.
Minister of Health Jean-Yves Duclos said Thursday there were some proposals to distinguish ground meats and whole cuts of meat, but the decision was made to opt for "more clarity" and to avoid "all sorts of confusion" by treating the two types of meat equally.
Article content
Department officials, speaking with the media in a technical briefing, added they did not want to give the impression ground meat is inferior to whole cuts of meat by adding an extra label.
Article content
James Bekkering, chairman of the Alberta Cattle Feeders Association, said he was relieved by Health Canada's decision.
"It seems like we've been fighting a lot of battles lately, and it's kind of nice to get a win and know that they're actually listening when we do present good facts to them," he said.
Article content
The provincial government and industry partners rang alarm bells last week at a press conference about the new labelling when it was brought to the Canadian Cattlemen's Association.
Melanie Wowk, chairperson of Alberta Beef Producers, credits the province and consumers for speaking up and pressing Health Canada to take a closer look at the policy.
The question many in the industry have is how it got to this point in the first place.
Article content
The industry has faced many challenges in the past few years from drought to supply chain issues, feed, rising input costs and a shrinking profit margin. This was just the latest battle for them.
"We've had one heck of a go this these past couple of years," said Wowk. "It just seems that there's a real misunderstanding out there about the importance of beef in a good diet and the importance of beef on the landscape."
She said they will be working to build off of this win and engagement with the government and health officials to improve their voice and be better heard.
'Baseless': Province skewers Ottawa over proposed ground meat warning labels

Ranchers' group pushes back against Health Canada's 'vilification' of beef
Sylvain Charlebois, professor of food policy and distribution at Dalhousie University, said that, like many others, he was "pleasantly surprised" and said Health Canada had made the right decision.
Article content
"The spirit behind these front of package labelling policies is to entice industry to provide healthier products to consumers. It's just impossible to reformulate a single ingredient product. So I think it's good news for both consumers and the food industry as well," he said.
The new regulations will require that most foods that contain more than 15 per cent of the recommended daily intake of sodium, sugars or saturated fat be labelled as such with a new symbol containing a magnifying glass at the top right corner of the product.
The new indication is meant to be a complement to the nutrition facts table and make it easier for consumers to make healthier choices when shopping for food.
There are however a number of exemptions, either because the foods have recognized health benefits (such as milk, cheese or nuts) or because they are already exempt from the nutrition facts table (such as most meats, fish or foods prepared and processed at retail).
Article content
Sweetening agents, salts, butter, ghee and other fats or oils are also exempt from the labelling because it would be redundant to do so.
Ground meats were originally considered under the policy since they are not exempt from providing a nutrition facts table like whole cuts of meat are. That decision left the meat industry scratching its head, since ground meat is a natural single-ingredient product just as meat cuts are.
Nutrition-wise, most ground beef contains more than 15 per cent of the daily value for saturated fat. But some dairy products have similar levels and they were always exempt from the new labels.
With food prices rising, ground meat is sometimes one of the only affordable sources of protein at the grocery store and experts such as Charlebois have wondered if now is the time to discourage the consumption of these products.
"Not exempting ground meat would have made meat more expensive in Canada," said Charlebois. "And when the food inflation rates are at 10 per cent, that's the last thing Canadians need right now."
Health Canada is giving companies until January 1, 2026, to comply with the new regulations. It will give them enough time to reformulate their products so they contain less sodium, sugars or saturated fat.
"It's time to actually move on and offer Canadians healthier products," said Charlebois.
— With files from Josh Aldrich, Postmedia